Read Time:
9 Minute, 12 Second
The Clevo NH70 is an admirable portable device among gamers. Its amazing resolution, graphics and other wonderful specifications make it such an incredible gadget for gaming.  First and foremost is its 17.3 inches Full HD screen that gives an exceptional gaming experience with an Intel core i7 9750H Processor. you can download and play heavy graphics games on it because it has 8 GB Ram, and a 256 GB SSD.
If you are a gaming aficionado with a tight budget then Clevo NH70 is the most affordable and suitable choice in this decade. It will give you a high-quality experience with a commendable performance. Today we are here with the information about Clevo NH70 that how it becomes an unbelievable gaming laptop and stays in the heart of gamers. You will get the details of the laptop such as its display, storage, price, sound, processor, battery life and memory. 
List of specifications of Clevo NH70!!
For your ease, we created a table with precise information so you check all these before buying this to quench the hunger for your gaming experience. 
| | |
| --- | --- |
| Model | Clevo NH70 |
| Storage space and type | 8 GB SSD |
| Graphics Card | NVIDIA GeForce GTX 1650 |
| The processor of the gadget | Intel Core i7 9750H Clocked at 2.6 GHz |
| Big Screen Size | 17.3-inches Full HD |
| High Resolution | 1920×1080 |
| Battery  and its life  | 14.4V 3275mAh lasts for 3.5 hours |
| Weight | 2.5 kg |
| Operating System | Windows 10 Home |
| Price | USD 1700 |
Why choose Clevo NH70 for gaming practice?
Clevo NH70 is the best choice for gamers with a high-resolution display and image quality. Along with this, its NVIDIA GeForce GTX 1650 graphics and 127.3 PPI picture density make it a superb model for the gaming experience. 
To enjoy your favorite game at the fullest sound plays an imperative role, here also Clevo NH70 comes into existence. Its speakers are capable enough to entertain the user with loud and clear voice quality. To provide the flawless and smooth experience of passion this laptop is having 9th-generation Intel core i7 processor and 8GB RAM.  All in all, it is a complete gaming package to enjoy for an electrifying gaming experience. 
Detailed Analysis of all its remarkable specifications!!!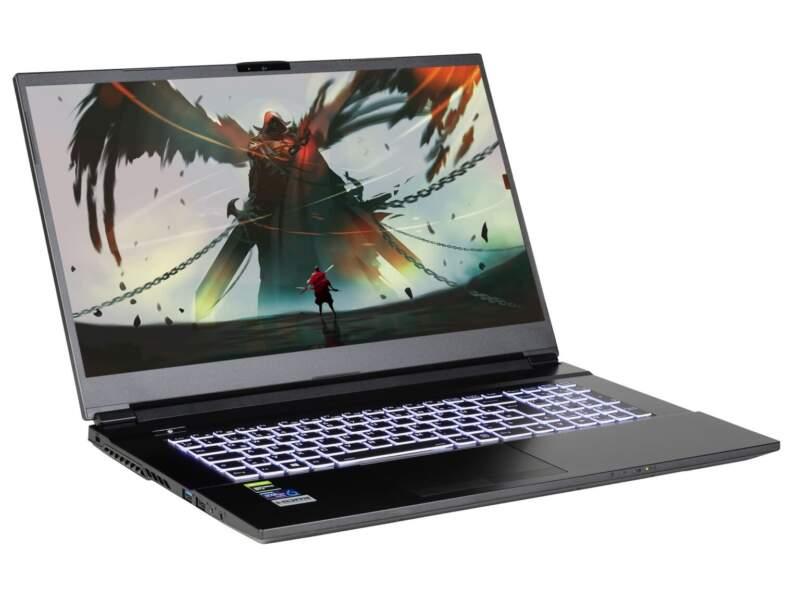 Display and resolution are at par!!
The screen display and resolution of a gadget always go side by side. Both are integrated and together give the best results. The display screen of this excellent gaming device is large and is about 17.3 inches with a matte effect. It shows a crystal clear display quality with a high and stunning resolution of 3840 x 2160. 
Vibrant colors for excellent output!!!
Clevo NH70 thermal is prominent among gamers for its vibrant colors and HD image display. If we compare the quality of its colors then no other gaming machine comes in competition. Hence, gamers like this gadget to play heavy games with high-resolution graphics and a powerful built-in graphics card. 
Weight of the gadget!!!
This gaming beast is a little heavy than some other gaming laptops in the competition and weighs around 2.5 kg or 4.58 pounds. Hence, it is not much portable because of its weight. This is the thing that can bother gamers a bit, otherwise, it is an outstanding choice. 
Battery life and its charging time!!!
This powerful laptop has a battery is of 14.4V 3275mAh, which is good but not perfect for a new laptop. The thing that lacks the gadget is its battery life lasts for 3.5 – 4 hours only, so users while playing their favorite game need to keep it connected to the charger. If you ignore this issue then no other laptop can beat this one. 
Performance of a processor for diverse games!!
The processor of the Clevo-NH70 gaming laptop is an Intel 9th-generation core i7 processor that overcomes the shortage of battery life. It gives a seamless gaming experience for gaming enthusiasts that they are ready to connect to the charger while playing and even they do not feel any hindrance in playing memory-intensive games. Moreover, they can also install multiple modern games on the gadget according to their choice.
If we talk about the performance of the machine then the prevailing processor allows you to run several tasks alongside gaming, like streaming and playing without any compromise. 
Storage capacity options of Clevo NH70!!
It shows you various storage options with some PCIe slots. The gamers can fulfil their requirements and can have up to 1TB storage capacity with a SATA hard drive. Hence, you will get a faultless gaming experience without facing any adjustment issues. 
The sound excellence of the device is great!!
The sound quality is the best than other gaming laptops in the competition. the location of speakers in at the bottom-left side and they offer great sound quality. The gadget is worth spending for watching thrillers and horror movies. You will get the feeling of a Dolby system. 
This first-class and robust audio and video quality set an exciting environment for gamers to make it their first choice. 
Keyboard & Touch Pad of Clevo NH70!!
This is the best and an amazing part of the laptop the backlit keyboard that can be changed to multiple colours according to your mood or streaming practice. It is an excellent addition to enhance the user's experience of working and gaming at the same time. 
Moreover, the touchpad is also very quick to respond if compared with other laptops used for gaming purposes. It seems to be very interesting to entangle the device for a long time. You can have smooth access to mainstream games like Minecraft and gg Roblox with this responsive touchpad.
The warranty is given by the company and other claims!!
Clevo NH70 metal comes under a warranty period of one year that covers the hardware mechanized defects that are not caused by the users including keyboards, monitors, keyboards and internal components malfunctioning. So, you need not worry if you encounter any machinery part problem because under the warranty you will get the repair of the machine's components. 
Targeted customers
The main customers of this wonderful gaming laptop are the people who love to have a smooth gaming experience while playing games on the laptop and are also gaming enthusiasts. Clevo NH 70 laptop is specially designed for an intense gaming experience
So, if you are a zealous gamer, and are in search of a high-quality laptop for your kind of gaming, then this is the perfect choice for you! If you are a gaming aficionado, then watch the review of your much-loved laptop here:
Benefits and limitations of Clevo NH70 Laptop!!
Here we have collected some pros and cons of this device that you must consider before making a firm decision to buy. 
Pros
Cons

The gadget has an excellent-quality image with perfect pixel density.

The gadget is a little bit expensive.

With GTX 165 graphics card the laptop is perfect for playing high-end games.

The battery life is of only 3.5 hours which is much disappointing.

A 9th-generation Intel Processor gives a flawless gaming experience.

This

Clevo NH70 laptop

does not have a webcam, which is a big limitation. 

A colour-changing back-lit keyboard is a superb feature. 

The laptop is heavier as compared to others with the same specifications.

Suitable only for high-end passionate gaming.

Not an ideal choice for office or home-based work.
All things considered, the laptop is a thrill for every game lover with an upgraded hardware setup and next-level gaming experience. This is the reason gamers are crazy about laptops. 
Buying Guide of Clevo NH70
When you're planning to buy a new laptop then there are numerous things you need to consider. Here are certain factors to take care of:
Firstly, you have to make a specific decision about what type of gaming laptop you want to satisfy your gaming hunger. You must know that a simple laptop designed for streaming or general office use won't be able to give you an intense gaming experience for the most demanding games. If your requirement is for a powerful gaming machine, then Clevo NH70 is the best option. 
Another significant factor is to think is the convenient range for you. People mostly like the mid-price range those are more affordable and have all the basic features you need. However, if your budget is a little high then you can find such laptops that offer better gaming or office working characteristics. 
Finally, the most imperative role of your lifestyle comes in the way of purchasing a laptop. You will find numerous such devices that people prefer differently. Some people prefer laptops with sleek designs whereas others like to have more ruggedized ones. The Clevo NH 70 laptop has both of these factors and the design and specifications are also perfect for the users to buy. 
FAQs related to Clevo NH 70 laptop!!
Which country manufactured this gaming laptop?
The Clevo NH70 laptop is manufactured by a Taiwanese company in the United States. They have assembled it with the best gaming hardware and software resources which are the best in the two worlds. 
Clevo has joined quite a few major software developers to create custom gaming software for the Clevo NH70 laptop. These developers' companies include Nvidia, EA, and Blizzard. 
How much did it cost you?
It will cost you around $1500, at all online stores. It seems to be high but is quite reasonable for a powerful gaming laptop. It is the thing that many experts judge to be on the higher side. 
For what purpose is Clevo NH70 used?
For satisfying the increasing craze of gamers the company manufactured Clevo laptops which are specially designed for gaming lovers who love to play intense gaming.
Is Clevo NH70 good for office work?
Although the laptop comes with perfect specifications still it is not good for office work and study. 
What are the striking features of the Clevo NH70 laptop?
This gaming laptop comes with an internal hard disk drive of around 1 TB and a disk storage drive of 8 GB RAM and a GTX 1070 graphics card. It consists of a processor that is of 9th generation Intel i7. You can play heavy games on a big display screen of 17.3 inches with a maximum resolution of 3840 x 2160.
To conclude, the device is undoubtedly one of the best gaming beasts in the laptop market. With its premium audio and video features, and an advanced graphic card, the Clevo NH70 laptop is sure to thrill every game lover in recent times. Furthermore, advanced RAM and other internal hardware of the gadget enable smooth and continuous gameplay for heavy games. However, this laptop is not a very pocket-friendly device. It is so because it fails to provide the laptop's basic needs such as long battery time, and handiness to carry and perform daily office work.