Read Time:
5 Minute, 51 Second
The world has advanced well beyond the era that allows for dull, uninteresting, and low-quality photos. There is a steady need for innovative, vibrant, and high-quality photos now, more than ever. Using high-quality photos, especially in eCommerce, may increase conversion rates by multiple percentage points. But there is a catch. The numerous instruments available to meet these requirements are either exorbitantly costly or burdened with steep learning curves and complicated processes. As a result, obtaining the holy grails becomes much more difficult. Fortunately, the VanceAI creativity series steps in.
It serves as a hub for a plethora of fascinating tools, and it has everything you'd ordinarily require to entirely alter your photographs from mediocre to amazing. These include the VanceAI Photo Restorer, AI image cartoonizer, and numerous others that we shall discuss in this article.
About VanceAI 
VanceAI is essentially a SaaS hub for a plethora of AI image processing functions. These features are cloud-based and accessible over the internet. Since its inception in 2020, this technology has successfully turned numerous skeptics into believers. VanceAI provides a simpler route out of the confines of rather expensive and difficult-to-use image processing technologies. You may be certain of the greatest processing quality available, whether you are a small company owner, a photographer, or anybody in between.
Features 
Online photo colorizing

Process batch image 

Software API and seamless social media integrations

Restore old photos 

Cloud storage 

One-click editing
Pros 
Low-cost

Super simple to use

Fast speed

Concern for users' privacy

Fine data security
Cons 
Not available offline

Not completely free 
VanceAI Creativity Series Review
The creative series is a collection of simple and engaging tools that allow you to easily handle large amounts of visual data. In this part, we'll look at some of these tools and see what they have to offer.
VanceAI Photo Restorer: Bring Old Photos Back to Life
The VanceAI photo restoration tool will assist you in restoring old images, removing scratches from their surfaces, and restoring them to a clean and tear-free state. VanceAI Photo Restorer uses deep learning and AI to make your old photo colors brighter on top of its improved quality.
That isn't everything. The application also includes various technological frameworks that allow it to detect faces in old photographs and improve them suitably.
As each of VanceAI's solutions guarantees, you can also be certain that your upload is secure since VanceAI Photo Restorer automatically deletes your uploads.
Toongineer Cartoonizer: Cartoon Yourself Online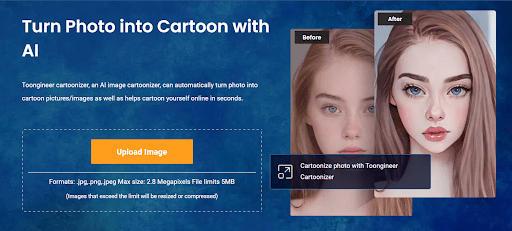 Cartoonized photography is a popular style in photography and creative images. This effectively turns your image into a cartoon character. Here's a great way to stand out on social media or promote your company.
You may cartoonize photos with the AI Image Cartoonizer without having to bother about complicated methods. It usually just takes a few seconds to transform a photograph into a cartoon one. As a result, making hundreds of amusing and enjoyable cartoon photos of yourself becomes much easier. The process is fully automatic, and with AI at the heart of it all, you can anticipate print-quality results whether you're using a photo of yourself or your pet.
VansPortrait: Turn Photos into Line Art
Having trouble with boring and uninspiring images? Make a sketch of it. This is now easier than ever with the VansPortrait. You may use this tool to turn picture into line drawings. It includes a stencil maker that converts images to stencils in a completely automated and high-quality procedure. Similarly, thanks to its deep learning foundation and the Anime GANV2 system, you can transform your photographs into anime in less than a minute.
You may now wish drab photographs a week farewell and stock up on more eye-catching images for various social media networks.
VanceAI Photo Colorizer: Colorize Photos with a Single Click
VanceAI Photo Colorizer is essentially a program that allows you to AI colorize photos online. You can use deep learning and AI to make your black and white photographs more vivid and colorful than that produced by filter.  It restores naturalness to your photos and colorizes them online with lifelike hues. This program is not just useful for colorizing photographs, it can also be used to easily remove blurring and noise from images.
Best of all, no matter how damaged, ripped, or scratched your photos are, it will bring them back to life and colorize them properly.
VanceAI Photo Retoucher
DSLR camera quality is commonly regarded as the gold standard in photography. If you can't buy a DSLR, the VanceAI will deliver it to your home for nearly nothing. You may use this to retouch photo online and improve the quality of your images from drab to eye-catching. It optimizes your saturation, brightness, and practically every other image quality feature with AI photo retouching. It's no matter if you're working with commercial shots, selfies, or even vintage photos, it processes everything swiftly and consistently.
Guide to Use VanceAI Photo Colorizer 
Method 1: Visit VanceAI Photo Colorizer Official Product Page
Step 1: Upload the image that you wish to colorize.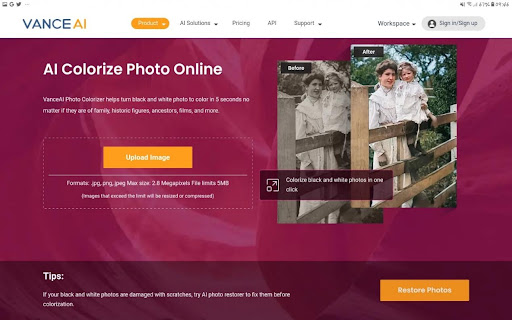 Step 2: Once you've uploaded your image, it will begin processing it automatically. Wait for it to finish this procedure.

Step 3: You may now save the processed image. You can also crop your image before downloading it from this page. So, if you think you don't need any of the image, this will come in helpful.
Method 2: Visit VanceAI Colorizer Workspace
Simply click on the link to access the VanceAI Colorizer Workspace. You may submit the image to colorize here and choose a rendering factor. You may simply leave this to 70. Click start to process and wait for the AI colorize tool to finish the rest of the procedure for you. Then, save your results. 
Conclusion
The concepts of entertaining, captivating, high-quality, and innovative pictures are ephemeral and subjective. However, to assist you in meeting the wide range of tastes when it comes to these. VanceAI provides several fantastic tools that you will find useful. VanceAI photo restorer, AI image Cartoonizer, Vansportrait, VanceAI photo Retoucher, and the VanceAI Photo Colorizer are among them. With these tools in your arsenal, you can be confident that you are on the right track to producing innovative and high-quality photos.
Other choices from VanceAI 
VanceAI Image Upscaler
Are you perhaps dealing with a low-resolution and hence low-quality image? You don't have to be that anymore. The VanceAI picture upscaler allows you to boost your resolution in a lossless manner by numerous multiples. This improves the quality of your image in a matter of seconds.
VanceAI Image Resizer
If you're having trouble resizing your image to meet precise requirements, this Resizer is all you need. You don't have to be concerned about the quality loss associated with basic cropping, nor about a few inches or PPI difference in comparison to your desired resolution. This AI tool has been designed to provide the highest possible quality in these areas.