Introduction

The reselling business of hosting services has gained considerable acknowledgment due to the advancing Internet technologies and almost all businesses finding an online platform. The most common and excellent option for your reselling hosting business is Linux reseller hosting. It renders high flexibility in managing your hosting business and comes at a cheap price. You can easily manage and fulfill your customers' requirements while providing them the services at an affordable cost. 
However, the uphill task is to find the best web hosting provider in India on whom you can rely. That is because if your source of hosting services does not accommodate your business goals, you can also never satisfy your end customers' hosting needs. 
Observing the same, in this article, we have pitched the top ten things considering which you can come very close to selecting the right Linux reseller hosting provider for yourself. Before you go through these ten factors, let us first briefly define Linux reseller web hosting. 
What is Linux Reseller Hosting?

Linux reseller hosting refers to hosting web services that employ Linux OS  running at the server's platform. The parent web hosting company offers Linux reseller hosting plans as a service. While utilizing this service from anywhere around the globe, you become capable of hosting your business website and further reselling the hosting services to your customers. 
Since Linux is an open-source platform and is free to use, the Linux reseller hosting plans come at cheaper costs. This enables you to attract your customers by providing them the hosting services at affordable rates. Moreover, Linux also provides high flexibility and numerous features for making the performance of an online business effective.  
Let us now move on to know the significant things you must look for while picking any Linux reseller hosting provider. 
Top 10 Things Every Linux Reseller Should Provide

1. Price of Hosting Plan

Your hosting provider must provide you the reseller hosting plans at feasible rates so that you can profit while reselling them to your customers at affordable rates. 
2. Technical Support

It is vital that you should gain technical and dedicated customer support round-the-clock. Surely, you would not want your site to face any issue for a longer period leading to downtime and rest problems for your customers. 
3. Client Reviews

No matter how much a hosting provider claims to guarantee the best hosting services and high-class facilities, you should not believe them in a blink of an eye. You must not check out their client reviews for complete assurance. 
4. Email Features

Your hosting provider must render the efficient and high availability of email address services. You must acquire the automated responding ability of email addresses and a fair solution to spamming problems. 
5. Add-Ons/ Features

You must confirm if the hosting provider accommodates the additional features such as unlimited add-on domains, as per your business demands. 
6. Security

Your Linux reseller hosting plan must come with the security layers that can ensure the high protection of your as well as your end customers' data. 
7. Hosting Hardware

Examine your hosting hardware requirements and confirm if the same can be acquired with the hosting provider you are seeking. 
8. Scalability

You must get the possibility with your Linux reseller hosting plan to scape up your web resources as and when required. 
9. Essential Features

Before signing up with a web hosting company, review the essential features needed by your reselling business. These include bandwidth limit, hard disk space, domains permitted, SSL security, and many others.  
10.100% White Labeled System

Your hosting provider must provide a 100% white-labeled system. This will allow you legally resell the Linux web hosting services under your company name.
Who is the best and cheap Linux Reseller Hosting Provider in India?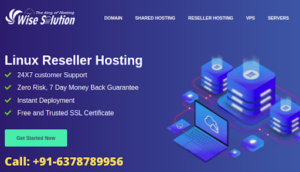 After much analysis, we can recommend Wise Solution hosting company for purchasing the Linux reseller hosting service. The company is one of the renowned and reliable organizations, which is emerging at the fastest pace. It is highly known for rendering the best Linux reseller hosting plans and packages at the cheapest prices. It renders the enterprise-grade infrastructure and fastest network connectivity to intensify your web business. Along with obtaining all the things discussed in the previous section, you will have the following benefits with the company's cheap Linux reseller hosting plans – 
You will be able to build multiple cPanel accounts and host several domains without any obstruction. Moreover, your web business will have a unique IP address domain along with your every cPanel account.

You will acquire the solid-state drive (SSD) for the data storage. This will enable you to boost your online business performance.

Your website visitors will attain the one-click fastest web page load experience. The company guarantees a 100% uptime network with the Cloudflare CDN.

You will receive the Web Host Management tool to easily and efficiently handle the cPanel accounts with unlimited sites, emails, and much more.

The company renders the free and most accessible website builder along with its Linux reseller hosting plans.

Your business

website

will acquire advanced protection features, incorporating end-to-end data encryption, DDoS protection, and in-built security firewalls.

You will also get the Softaculous one-click installer to install the desired applications within a second in one click.
Conclusion
With the Wise Solution, you get 24/7 technical support from highly-qualified professionals. They provide instant expertise to all your issues and are available via various mediums such as Whatsapp, Skype, Phone, etc. You can also communicate with the company's experts to grab more details about the reseller hosting services before you buy any.
On the other hand, you can pick the Wise Solution Linux reseller hosting without keeping your investment at any risk. That is because the company offers a 7 days money-back policy. Also, you have the freedom to choose the data center near the location you want for the required execution of your web business. Visit the website's official website and learn more about its Linux reseller hosting – https://www.wisesolution.in/linux-reseller-hosting. 
Recommended: The Top Reasons Why Businesses Use Webflow for Their Website