Read Time:
5 Minute, 42 Second
Carpet removal can be a daunting process if you are doing it for the first time, but following the step-by-step guide below, you will find the process surprisingly very easy. Removing the old carpet yourself should be your last resort after considering every other option. Some companies and individuals will remove it for a fee, and they will do it professionally.
Some companies that help fix carpets could remove the old carpet for free as long as they would be the ones installing your carpet. Also, you can pay any disposal guy to help with your carpet removal and dispose of it for you after it is done. All of these options come at a cost. Some as low as $100, while others can be as high as $250. However, if you want to save cost and remove the carpet yourself, you can follow the guide below. Check Jiffy Junk to learn more about carpet removal.
Before you start your carpet removal, you might want to learn more about great carpets in the market to replace the old ones at home by visiting the Jiffy Junks. Also, there are important tools you would need if you have decided to remove your carpet yourself. These tools are essential to ease the whole process for you. They include a sharp utility knife, dust mask, gloves, duct tape, pliers, safety glasses, knee pads, crowbar. Each of these tools has its importance, and their combined price is lower than hiring someone to do it for you. Therefore, you are genuinely saving costs.
Pull the Carpet From One Corner
https://www.pexels.com/photo/low-angle-photo-of-hallway-inside-closed-room-1253800/
This is the first step to carpet removal in your room. Make sure you have your gloves, dust mask, and safety glasses on. This measure is to save you from dust and allergies that may come from the process. Once you have everything in place, go to a corner in your living room and start pulling the carpet up.
There will be tack strips around the edges of your carpet. These strips are thin pieces of wood around the edges of your carpet. Using this during the installation process will keep your carpet fit around the wall. They often contain nails shooting out, which means you need to watch your hands as you try to remove the old carpets from any corner.
If your carpet is not pulling quickly, then use a utility knife to cut a small square out of the corner of your room. The cut should be large enough to fit in your hands, comfortable to pull the carpet with sheer force. While removing the carpet off the floor of the room, make sure you roll it up. In the carpet rolling process, it is advisable to cut them into small sections you can carry. As you do this work, you should have in mind that you will be the one to carry it out. Therefore, cutting the carpets as you roll them will save you a lot of stress.
Remove the Underlay of your Carpet
It is sporadic to find a carpet installed without an underlay. Generally, an underlay is a thin layer of cushioning made of rubber, foam, plastic, wool, etc. The work of an underlay is to reduce wear on the carpet. If the carpet has direct contact with the floor of your home, it tends to wear very easily. Moreover, underlay adds a kind of extraordinary comfort to the feet and insulation against sound, heat, and moisture.
During installation, underlays are either tacked down with staples or glued to the floor. If they are stapled, it is a much easier process. All you have to do is to pull the underlay up as you did for the carpet. As you do so, the staples will be automatically removed. Some staples might be stuck on the floor because they were glued to the floor or bonded to a substance. Anyways, make use of a scrapper.
You can also make use of a floor scraper to remove your underlay if it is tacked down with glue. This process can be more tedious than the former, but if painstakingly done, it is smooth. Here you should be careful not to spoil the floor of your house. Since the underlay is pretty much lightweight, you don't have to cut them into pieces if you remove them.
Remove Stuck Staples and Strips.
As we discussed above, when you are removing the underlay, it is almost impossible not to have staples stuck on the floor. You have to deal with them before you fix or install new carpet so avoid unevenness of your carpet after installation. You can make use of pliers or floor scrapers to individually pull out these staples. It is not a complicated process but can be pretty tedious if they are many.
When you are done with this, it is time to remove the tack strips or gripper rod. These strips are thin wood around the perimeter of your carpet. If they are in perfect condition, you can leave them, but you must remove them most times. You should because they can be damaged by moisture or already breeding insects, which can reduce the lifespan of the new carpet.
Mere looking at the gripper rod, they might be rusty, making it easy for you to make the right decision of removing it. You can do this by making use of a crowbar. You will slide the crowbar under the nails holding the strip. It does not lift easily, use a hammer to hit the crowbar, and you will undoubtedly be able to remove the strips.
Clean Up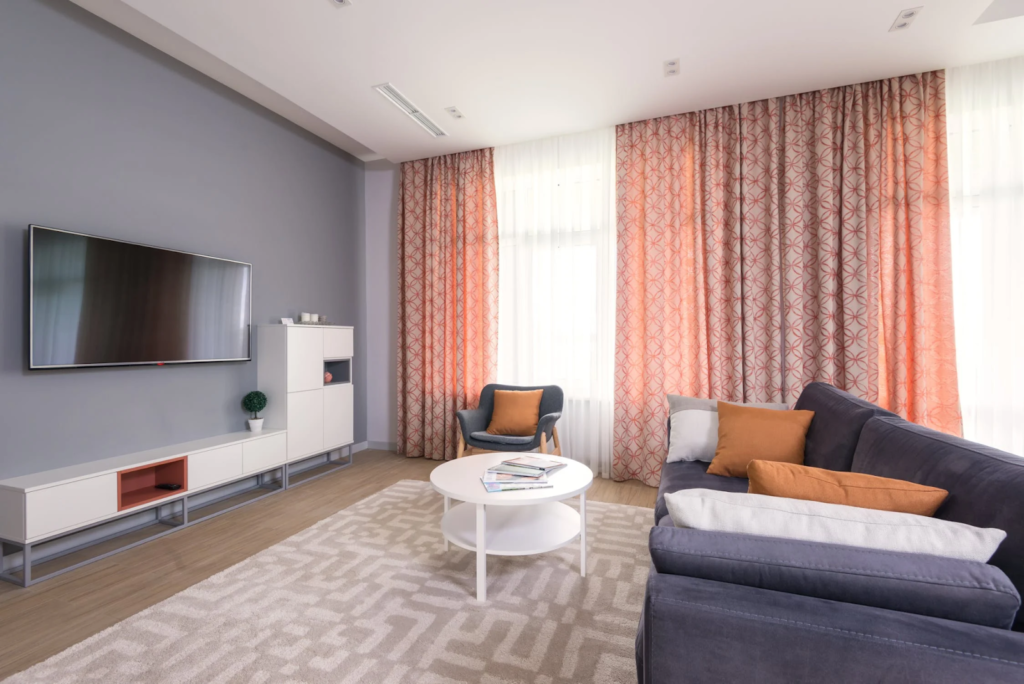 https://www.pexels.com/photo/comfy-sofa-and-armchair-with-modern-tv-in-spacious-living-room-6527046/
This is the last but equally important process. This process is not a stand-out one because as you remove the underlay, the cleaning process is on. If your underlay is fixed using staples, you must pick them from the floor and gather them in a uniform place to avoid scattering around.
Moreover, you might need to clean your entire room to eliminate any scrums and pieces left after all the process above. Depending on how clean the above procedures are, you might have to do some scraping to get rid of carpet or underlay pieces.
Parting Words On Carpet Removal
If you want to install a new carpet, it might be essential for you to do some fumigation to kill the germs that have been on your floor over time. Depending on how long you have used your previous carpet. However, you need to do some fumigation using mild chemicals to kill germs and ward off insects from invading the new carpet and subsequently reducing its life span.