Read Time:
3 Minute, 39 Second
Golf carts are a key part of the game. A golf cart can make all the difference if you want to minimize the walking time and carry all the refreshments when cruising the fairways—no wonder these transportation devices are very popular for short trips. 
However, there is one problem. With seasons of use, the inner golf cart accessories will show signs of wear and tear. You will start noticing cracks in the upholstery, which can end up affecting your comfort. A golf cart seat cover is here to make an old cart look refreshing. Replacing the club car seat covers is the most practical way of making the golf carts new and shiny while the shorts trips cozier without going overboard with the spending. Depending on the type of product you go for, you can use the seat covers as sun-proof, dustproof, and weather-resistant accessories.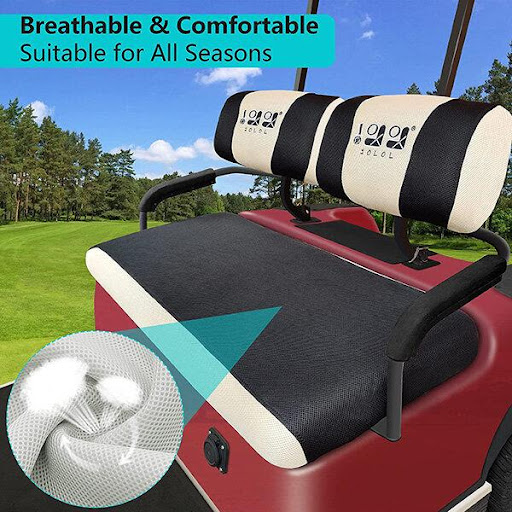 All the while adding comfort with a stylish flair. Are you looking for the ultimate golf cart seat cover? The guide below can help. We compiled some useful information for you. 
What Can a Quality Golf Cart Seat Cover Bring
Factory-fitted seats can hold up very well. But, the sun, dirt, rain, and pets can ruin the upholstery, turning it torn and dull. Seat covers offer a protective layer while providing an aesthetic appeal. A top-quality product ensures long-term use.  
With 10L0L's golf cart seat covers, you never have to settle down with sub-standard or low-quality materials. Thanks to the breathable, comfy mesh and polyester blend, you are getting a golf cart seat cover that offers plenty of advantages. Such as:
Stylish designs and plenty of colors to choose
Are you sick of the same dull black or grey factory-made golf cart seat cover and want your golf cart to look different from others? Changing the cover can bring the carts a refreshing looking. 10L0L provides golf cart seat covers with diverse colors, meeting the demands of different ages. Besides, each cover is equipped with 3 separate storage bags for your water bottles, phones, and other belongings.
Highly breathable materials
Think about having a short golf cart trip during the scorching hot summer days when steaming skins are smothered by the bad seat … Damn, the uneasiness will drive one nut. Therefore, when choosing the golf cart seat cover, breathable materials must be at the top of the consideration list. 
10L0L adopts mesh and polyester materials on the covers, which are excellent for golfers who want to stay cool. Unlike other fabrics, polyester mesh won't get bogged down with sweat. On the contrary, you are getting a highly breathable surface. 
Durable materials and washable surface
As the main victim of the constant scratching, sand, and direct sunlight, seat covers tend to damage after a certain period of time. Noticing the headache for many, 10L0L manufactures seat covers with durable material that is tough enough to deter any scratches, dirt, and indentations and therefore are not subject to wear and tear. Besides, their surface is machine washable, which is good for maintenance and may save money.
Traditional golf cart seat covers are difficult to replace, but 10L0L's are different. Swallowing and pulling, there you go. Following is a more detailed description.
Installation Process
As we have mentioned before, one of the advantages of 10L0L's golf cart seat cover is easy installation. Unlike other seat covers, whose installation process requires various tools like heat guns and pneumatic staplers, all the gadgets on the corners of the seat covers facilitate the installation process.
The elastic rubber can adjust itself to fit the back-holder of the carts.

Pull buckle or elastic rope for tightening the cover.
Pretty straightforward, isn't it? Then you will have a brand-new seat cover that will make your trips more comfortable. 
Conclusion
Spice up your golf cart trips by replacing the golf cart seat cover, a pretty fair deal. But does 10L0L provide EZGO golf cart seat covers? Or club car or Yamaha golf cart seat cover? Yes!
As a professional golf cart accessories manufacturer, 10L0L provides golf cart seat covers for different brands. What's more, if you want to buy all the golf cart accessories and parts in one store, go and visit their website. That is the place providing one-stop solutions. Well, the link is down below:
https://www.10l0l.com/.