Do you want to enhance the visual appeal of your brand with eye-catching custom stickers? Maybe you prefer using a hologram sticker to authenticate genuine products and combat counterfeiting?  Either way, custom stickers are an effective marketing strategy that helps drive business growth in almost no time. 
No wonder most brands and companies count on the power of custom stickers to stay afloat. After all, they are inexpensive, and you can use them on any matching products you have. Better, they give your business an edge as you promote your brand effectively and economically. 
As appealing as it sounds, how you create and design your custom stickers says a lot about whether they will guarantee maximum benefits or not. That is why you should take this step of your sticker marketing campaign with the seriousness it deserves. Even though you can choose to print your custom stickers, this decision could prove costly in the long run. 
To ensure everything turns out how you expect, it is in your best interest to employ a custom sticker printing company. Here are the benefits of a professional sticker printing service provider. 
1. Top-Notch Sticker Quality 
Merely because you deem die-cut stickers ideal for your branding and marketing campaign, it's not to say you should use them for the sheer sake. And this is easy to see since high-quality stickers are vital for your brand's success. Keep in mind it's human nature for our eyes to settle on unique designs and attractive packaging. 
For your products to remain afloat in the sea of competition, always ensure you use high-quality stickers.  Remember, a reputable sticker printing company relies on the best quality material and techniques. That is good news since the custom stickers you receive match your expectations. 
2. Cost-Effective 
It is easy to think that taking the DIY sticker printing route is the ideal way to save money.  But you'd be surprised at how much more money you spend in the end. The cost associated with DIY sticker printing projects can escalate quickly, leaving you regretting the decision.  That is mainly if you make do with delays or buy all printing equipment from scratch. 
Reputable sticker printing companies can save you stress as they guarantee money-saving benefits for your business. If you place bulk sticker orders, rest in knowing they will offer discounts to minimize spending. And they do this while maintaining quality and consistency across all your custom stickers. 
3. Offer More Sticker Options 
There are various stickers to use for your company's marketing portfolio. That's why it pays off to research the different stickers available before using them as a marketing tool. You want to be sure that you'll get a better return on your investment, and it is possible if you have things right from the word go. 
A reputable sticker printing company doesn't disappoint, in this regard, as they offer a wide range of products for marketing purposes. Since they make customized stickers at your will, you can choose to go with die cut stickers, Vinyl stickers, Glitter stickers, Holographic stickers, or Clear stickers, to mention a few. All it takes is to factor in the pros and cons of each sticker type before deciding on anything. 
4. Minimize Errors 
When running a sticker marketing campaign, you should never risk making mistakes. You want to convince potential customers to buy your product in the future, and it won't happen if you make mistakes with the labeling. And that mostly happens when you count on an inexperienced in-house team to create, design, and print custom stickers as they might miss spelling errors. 
Working with a professional sticker printing company minimizes the chance of making potential errors that could tarnish your brand reputation.  This is because the sticker goes through multiple sets of eyes to identify possible grammatical mistakes before printing. Keep in mind there are no second chances to create the perfect first impression, and a sticker printing company will help you with that. 
5. Offer You Peace of Mind 
Even though you want to take advantage of what a hologram sticker can do for your brand or marketing efforts, do you have what it takes to create the perfect design? Thinking about it is reason enough to send chills down your spine.  That's not to say you should skimp on what they can do for your business.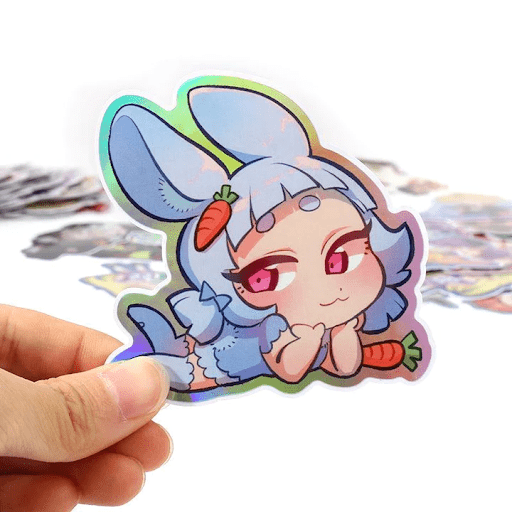 Hologram stickers are ideal for security, product launch, product labels, packaging, and brand authentication, to mention a few.  With a sticker printing company, rest in knowing you will get peace of mind while including hologram stickers in your advertising campaign. These companies know what it takes to navigate through a professional print. 
For this reason, they will guarantee the best possible results and output. The catch lies in telling them what you expect from their custom sticker printing services. Be sure to ask them any burning questions you might have before they commence your printing project. Remember, they are experts and will even offer help on the design structure.
The Bottom Line 
There is more to hiring a custom sticker printing company than some business owners tend to think in the first place. You save valuable time, get peace of mind, a wide range of products, and top-notch sticker quality. These are benefits you might never attain if you go the solo route with your sticker marketing campaign. 
Either way, ensure you're counting on the best in the field.  Even though they all claim to have your best interest at heart, some sticker printing companies say this to win your business. For this reason, never make the mistake of hiring a sticker printing company blindly. 
Go out of your way and perform a background check to determine what they bring to the table. Use this as the perfect opportunity to examine their sticker quality and reputation.  With this information, you can separate the good from the bad without the hassle. So, what's keeping you from working with a custom sticker printing company?