Read Time:
5 Minute, 6 Second
Product reviewing blogs are at the top of their popularity today, and that popularity is set to grow even more in the future. We live at a time when it seems that thousands of new products are being launched every day, competition between them is strong, and market demands just keep growing. That is an excellent time for us as consumers, but having so many choices and options can be confusing, and we all want to get the best product. And that's why we need product reviews and product review blogs.
Ultimately, when starting a product reviewing blog, or any other blog for that matter, you will need some plugins that will make your life much easier. They can help you save time and focus more of your energy on the content. Also, improving SEO (Search Engine Optimization) and user interface can be much easier using these plugins. These are plugins that you can use in WordPress, and we picked each one of them for very different and specific tasks.
1. WP Reset
The WordPress Reset plugin is an irreplaceable plugin for the testing and development of your blog. It contains a powerful set of tools that can be lifesaving in some situations. WP Reset can help you keep your blog clean and optimized by deleting all unwanted junk and bloat that can slow down or even break your site. If you want to reset your project and remove all the themes and plugins you have installed, WP Reset is a perfect tool. The collections option of the plugin is ideal for the batch installation of your favorite plugins and themes, so you don't have to install them one by one. If you encounter any type of issues with your site, such as the white screen of death in WordPress, corrupted core files, or similar, you can also utilize the Emergency Recovery Script as a standalone tool. In addition, you can create many collections for different types of projects and install them with ease. If you want to test something on your site, but you are afraid of messing something up, WP Reset can create a snapshot of your project so you can always go back. You can make these snapshots manually, or you can set it up to be an automatic process. All of the tools can be controlled by a simple, intuitive, and beginner-friendly centralized management system.
Pricing: personal $39/year, team $79/year, agency $149/year.
2. Coming Soon WP
You bought your domain, set up your server, and your blog is ready to go live; the only problem is, you didn't build your blog. The best thing you can do in that case is put up the "coming soon" page. The WordPress Coming Soon plugin is made just for that. With over 2 million free images on offer and 170+ themes, you can make your coming soon page really unique. This plugin also offers you an easy subscription solution so you can notify users with newsletters. Coming Soon WP also comes with built-in SEO tools so you can have traffic on your site from day one. This plugin is beginner-friendly and very easy to understand and use.
Pricing: pro yearly $39, pro lifetime $79, agency lifetime $199.
3. WP 301 Redirect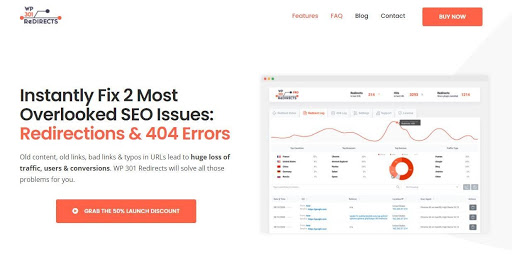 WP 301 Redirect plugin offers to solve the problems that many users have with SEO. Old links that don't work anymore, incorrect or bad links, and so on. All of these can seriously damage your SEO, and this powerful plugin can help you deal with that. It allows you to block bad bots and easily handle WordPress redirects and custom links. You can even change the URLs of your post and still automatically get the correct redirection without you having to do anything. There are built-in analytics tools with charts for easy understanding to always be in the know of what's going on with the traffic on your blog. You don't need any coding knowledge to use this plugin, and it's perfect for complete beginners.
Pricing: personal $39/year, team $79/year, agency $149/year.
4. WP Sticky
If you are building a product review blog, you want it to look great. Attractive and functional UI will guarantee you more visitors and better SEO. WP Sticky is a plugin that can make any object sticky, that is, will make objects stick to their position while the user is scrolling. This is particularly useful for making a sticky menu, navigation, widgets… WP Sticky is compatible with all WordPress themes and plugins. Its visual picker is very powerful but easy to use. WP Sticky is incredibly easy to use, and you can make any object sticky. WP Sticky is beginner-friendly and simple to use, with no coding knowledge required.
Pricing: single $39, team $49, agency $99.
5. Simple Author Box
If you are running a product review blog, the chances are that you have authors writing those reviews. Your authors need to be credited and represented in the reviews. Simple Author Box is a plugin that makes creating responsive and beautiful author boxes a breeze. And not just that. You can easily manage your authors, add guests or even multiple authors to a single post. You can choose post types that you want the author box to show and have full control of typography, colors, and complete appearance. Easily link to your author's social media and websites and control those links' behavior. Simple Author Box is very easy to use, and it is a beginner-friendly plugin.
Pricing: mono $39/year, trio $69/year, agency $499/year.
Conclusion
Running a good product review blog is not an easy task. It requires a lot of time, effort and can easily become overwhelming. Having all these plugins to help you mostly with the technical side can be a true blessing. Every one of these plugins performs a special task, and they are all the best in their respective areas. Having the right tools for the right job is a game-changing advantage. So be sure you have, and let's start your product review blog today.