Read Time:
4 Minute, 18 Second
In today's world, data is becoming very important as people are getting more and more digital. People store their data on different devices like computers, external drives, etc. but what if they lose all their data? How they can recover their lost data? Here we're going to learn about what can cause a data loss and how we can recover it using some data recovery software.
Most Usual Reasons of Data Loss
There can be any reason behind your data loss but the most usual reasons are these,
Human Error
Human Failure
Theft
Corrupted Software
Corrupted Hardware
Viruses
Ways to Recover Lost Data
There are 3 common ways to recover your lost data.
1. Using a Free Data Recovery Software
The first method through which you can recover your lost data is to use free data recovery software. One of the best free data recovery software is Recoverit. It is very easy to operate, and It is specially designed for recovering lost data. We'll talk about, "How we can use Recoverit to retrieve lost data" later.
2. Using Backup Data
Using backup is always one of the easiest ways to recover lost data. All you need is to locate the lost data's backup files and recover them. If you have backed up your important files to your hard drive or USB drive, you can use it easily.
3. Using File History
Windows File History works the same as Time Machine Backup on Mac. File history can also be one of the easiest ways to recover your lost files. In computers, file history makes a copy of files that you've used recently. With a data loss scenario, you can easily use it to recover your lost files. However, to recover your files using File History, you need to have it enabled on Windows before losing your files.
Recovering Lost Data Using Recoverit
As we know, Recoverit is software that helps to recover lost data. It can help us recover data from both external devices and crashed computers.
Recovering Data from External Storage
First, we will discuss how we can recover data from an external hard drive or storage.
Step 1: Open Recoverit and connect your external storage. Then select the targeted drive in your computer.
Step 2: After that, you'll have to start scanning the selected external drive.
Step 3: When scanning is done, preview the data and hit the recovery button.
Recovering Data from Crashed Computers
Now, we will learn how to recover lost data from your computer's internal storage. There are some prerequisites for recovering lost data from a crashed/corrupt computer. First, you'll need a USB device. Second, make it bootable. If your computer isn't starting as it can be in most cases, you can attach your USB with your computer and make it bootable using Recoverit.
Step 1: Attached your USB with your computer and click on "Create". This will automatically format your USB device and then it will make it bootable.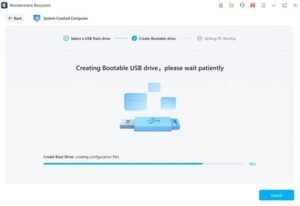 Step 2: While you make the USB bootable, connect it to your system and open the BIOS settings and make the USB the primary boot option.
Step 3: When your computer becomes bootable, you'll get two options one will be "Hard Disk Copy" and the other will be "Data Recovery".
Choosing Hard Disk Copy
Select the option Hard Disk Copy and give the directory from where you want to search your lost data.
Mount a healthy external drive to your crashed computer.
Start scanning and once the scanning is done, select the hard drive you've just mounted to start copying the data from the computer to your drive.
After the data gets copied, you'll get a popup saying, "Data Copy Completed".
Choosing Data Recovery
If you'll choose Data Recovery, you'll have to start scanning your desired location/disk.
You'll have to attach a healthy external drive.
After the scanning process is completed, you'll have to choose your external drive's location and start saving the recovered data.
Some Tips to Avoid Data Loss
Here are some tips to consider for avoiding data loss.
Keep your system clean (dust and moisture-free).
Have an eye on the temperature of your system.
Always have the backup of your data to multiple locations.
Avoid opening suspicious websites and emails.
Turn off your computer after you're done working.
Don't delete system files or the files you don't know about.
Conclusion
In this article, we've learned what can be the common reasons for data loss, what are the basic ways to recover lost data, how we can recover lost data using free data recovery software, and how we can prevent data loss. We've discussed how you can recover your lost data from both external storage devices and crashed computers using a free data recovery software called Recoverit. It is very simple and easy to use and has a very user-friendly interface that anyone can operate. So, if you have lost your important data and want to get it recovered, then Recoverit is the best option to go for.