Read Time:
4 Minute, 4 Second
A corrupted or damaged file is a file that does not work properly. This can be true for any type of file, from many files and documents. These types of files may not open at all or may appear garbled and unreadable. You might have thought sometime, "who corrupts my file?" We will talk about, the causes of file corruption, the common ways to repair a corrupted files, and how you can repair these files using free repairing software.
Basic Causes of a File Corruption
The most basic causes of file corruption are as follow,
Virus Infected Files
Viruses can affect files by deleting them, infecting the computer registry, changing the volume labels, marking sectors as bad on the drive, marking clusters as bad in FAT, creating cross-linked files, or creating new partitions on the drive. the disk drive. A virus can change the way files get saved and played on a computer, causing corrupted files to be created even though there is no problem with a hard drive. For example, Viruses can also make a specific sector as bad even if it is not bad. So, it can infect files in that way.
Computer Crashes
There can be a lot of reasons behind a computer crash. Logical crashes (for example, complete shutdown or "blue screen of death" for Windows users) occur when programs use conflicting memory or when new hardware is damaged. Programs are normally allocated memory by the system and cannot share any part of the memory; If a program accesses the allocated memory of another program, a crash may occur. If programs that use kernel memory (trusted programs, such as the operating system or hardware drivers) access the memory of another kernel program, a system crash/shutdown will occur. In either case, if a file is saved, viewed, or occasionally opened, the file may get corrupted due to a sudden shutdown.
Bad Division of Hard Disk
Sectors are divisions of a hard drive. When a user tries to save a file, the computer searches for a sector on the hard drive to save the data. If your computer saves a file in a "bad sector", the file is likely to become corrupted or inaccessible. Bad sectors can be caused by physical damage (for example, loss of hard drive magnetism and therefore loss of its ability to store data) or incorrect parity checks on the drive. A computer does not know which sectors are bad or unstable, so the user has to scan hard drives (such as C drive) for bad sectors. This can be done by right-clicking on the drive from "My Computer", selecting "Properties", "Tools" and selecting "Check Now" in the "Error Checking" heading.
Basic Ways for Repairing Corrupted Files
A Corrupt file error is a very unpleasant pop-up for anyone. It usually appears at any moment. So it will be very helpful if you know the basic ways for repairing a corrupted file. Some of the basic ways to repair corrupted files:
Try changing file format.
Perform a checking scan for your hard disk.
Try the CHKDSK command in your command prompt.
Try the Scannow command inside your command prompt.
Use Repairing software to repair your files.
Repairing Corrupted Files with the help of Repairit
Repairit is a software developed by Wondershare which is very helpful in repairing damaged and corrupted files on both Windows and Mac. It is also available online to some extent. The interface is very simple and almost everyone can operate it. But don't worry, you will learn step by step how you can repair your files using Repairit.
Step 1: First, launch the Repairit software and add your corrupted or damaged files to it. For that, go to the file repair and click on "Add" and start adding your files.
After your files get added, you can review them and if you've added a file by mistake, you can remove it by clicking on the trash icon.
Step 2: After your files are added, you can click on the Repairit button at the bottom and the software will start scanning and fixing the issues of the damaged files.
Step 3: After the repairing process is completed, you can save your files to your desired location.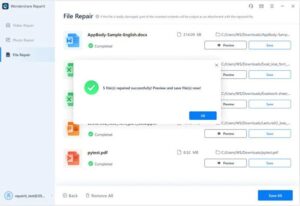 Conclusion
Corrupted files are a real headache for almost everyone. They can appear at any moment. So, we have learned what are the causes of a damaged or corrupted file, what are the common or basic ways to repair the corrupted files, and how we can repair those files using a repairing software called "Wondershare Repairit", which is specially designed for fixing both major and minor affected corrupted files. We've learned step by step how to operate Repairit and what are the steps to follow while repairing a file. It has a very easy-to-use interface and almost anyone can use it.