Read Time:
3 Minute, 56 Second
Albania is currently being considered as one of the most famous dental tourism destinations of the decade, as its attention has surpassed great professionals from neighboring countries, making Germans and French risk taking a leap of faith and land in new lands just to get dental implants. 
This phenomenon is not due to any kind of magic, it is all thanks to the great qualities that these professionals offer in their field. And to prove it to you, today we bring you some things you didn't know about dental clinics in Albania.
Professionalism and specialization, key factors:
Intrusiveness exists, but it is not at all common in Albania and has a fairly high penalty, so it is unlikely that you will get a professional who is not really qualified to attend you. 
All the professionals who attend the clinics have a degree in dentistry or a specialist in stomatology, and they always have in plain sight their registration number and their titles to assure you that you should have peace of mind.
The field of dentistry is not small at all, it has different branches such as pediatric dentistry, endodontics, implantology, orthodontics, among many others. So, a remarkable aspect of Albanian professionals is that most of the dentists have complementary training in addition to their degree, either through a master's degree or through specific training with an accreditation that can be shown to their patients as confirmation that they are qualified to treat the specific diseases of that branch of dentistry.
And it is not only the professionals who see you in the dental office who are certified, but also the entire staff. If any dentist's assistant is not qualified to be able to see patients properly, he or she may run the risk of a very serious legal penalty.
Most of the dentists who have a bad reputation with their patients, do not last long in the market or do not have almost no people in their office, as health is something very important for Albanians and they do not see fair that a person who is not qualified to solve medical problems is giving a consultation, so they are usually destined to fail and it is easy to identify them.
Facilities, materials and technology
If you are concerned about the quality of the materials with which you will be treated, you will be happy to know that one of the things those Albanian professionals are most celebrated for is the great equipment they provide for their clinical centers. 
For them, it is essential to comply with rigorous procedures, among them we can highlight that the clinic must be able to attend different types of treatment separately and for different types of people: children, adults and old people. Including people who have some kind of disability that does not allow them to receive regular dental care. 
Technology is also fundamental, most of the dental clinics have advanced state-of-the-art equipment and have constant check-ups to confirm that they are working properly.
They themselves say that working in acceptable conditions and with quality equipment, in addition to having good hygienic conditions, helps the treatment to be successful and the patient to feel safe. In addition, they add that it is essential to have quality materials, so they implement much of the profit of the clinic to bet on resistant materials to prevent the patient from getting hurt or that their treatment lasts very little, for example, the materials with which dental veneers or dentures are made.
Wide range of treatments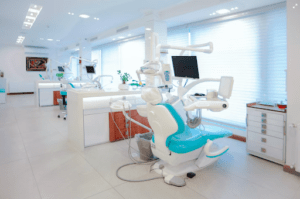 Few of the dentists coming out of Albania only have experience with a few treatments and limit themselves to them, as most strive to offer as much as they can as long as it is their branch of study. 
They strive to keep oral health in a condition fit for the patient's normal life, and have no problem explaining basic preventative measures for dental problems, as well as treatments that can help decrease the possibility of developing disease.
Price is not everything
The price of dental consultations and treatments is one of the things that attracts foreigners the most, since compared to other European countries there is a saving percentage of up to 60% in dental treatments. It is not too cheap and they are not trying to rip you off, it is because the cost of living in Albania is very cheap as well as the labor, so the treatment costs are quite affordable and they are not greedy, so they are not interested in increasing the price to foreigners, as their priority will always be to maintain the oral health of their patients even if they come from France.